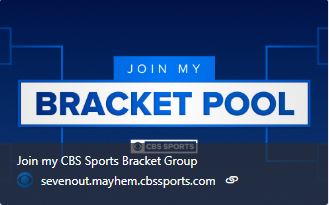 This is just a quick message to our listeners inviting you to go to our website (https://sevenoutpodcast.com) and sign up for our free $250 winner take all March Madness bracket challenge. Click on the sign up box on the top right of our website to join through CBS sports. Once the brackets are finalized on Sunday you will be able to go in and make your picks. Remember – this is absolutely free with no cost or entry fee. It's our way of saying thank you, and to show our appreciation of all of your support.
Click here or click the banner on the top right to sign up.
Check us out on:
Call and leave us a voicemail: 516-336-9054.
Your Hosts: